Recent Appearances
Heafner Preaching Mission 2018, Lincolnton, North Carolina. April, 2018.

Festival of Jewish Books, Berkshires, Massachusetts. July, 2018.

TEDxCharlotte, October, 2018.

Scholar-in-Residence, Martin Luther King Weekend, Temple Beth Am, Miami, Florida. January, 2019.

Keynote Speaker at Women's United March, Charlotte, North Carolina. January, 2019.

Beauvoir, The National Cathedral Elementary School, Washington, DC, Keynote speaker for Spring Symposium, April, 2019.

Jewish Historical Society of South Carolina, Charleston, SC, May, 2019.

Atrium Health, Charlotte, NC, Atrium Health's Annual Diversity and Inclusion Symposium, May, 2019.

Second Annual Westminster Lecture on Faith and Civic Life, Westminster Presbyterian Church, Dayton, Ohio, September, 2019.
Schedule of Upcoming Appearances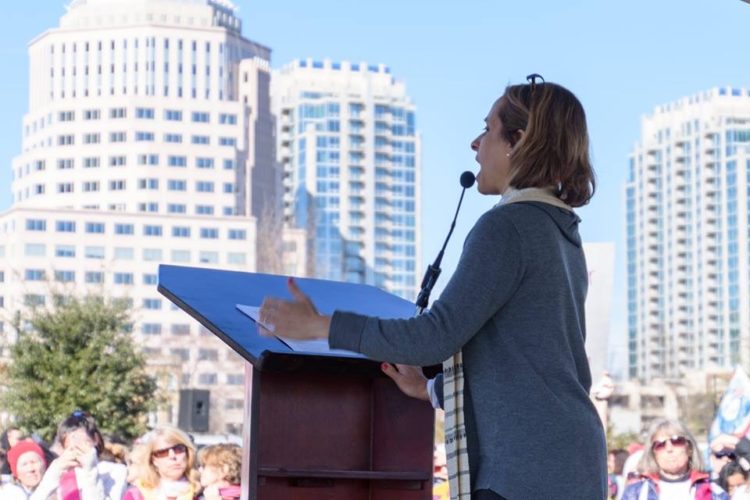 First United Methodist, Belmont, North Carolina, Lecture "Passover from the time of the Exodus to the time of Jesus to today." February 23, 2020.
Calvary Episcopal Church's Lenten Preaching Series, Memphis, Tennessee:

Wednesday, March 4, 2020, 6:15 pm – "Two rabbis and a minister walk into a bar: Reconciliation in the Real World" with Rabbi Micah Greenstein and Reverend Meredith Day.
Thursday, March 5, 2020, 12:00 pm – "Overcoming obstacles to love: There is no match.com for finding partners for progress."

Central Conference of American Rabbis Convention, "How do we engage in meaningful dialogue about Israel?" Monday, March 23, 2020, Baltimore, Maryland.
Jewish Council of Lake Norman, Davidson, North Carolina, Thursday, April 2, 2020 – "No person is an island: being links in the chain of our community's success."