December 24, 2016
A Rare Alignment: Chanukah & Christmas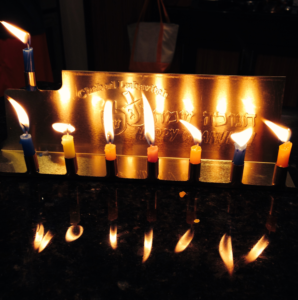 Light in the midst of great darkness,
a minority fighting for and attaining rights,
celebrating religious freedom —
these are the messages
of the ancient Jewish holiday of Chanukah.
"The triumph of life, goodness, and love
over death, evil, and hate."
In the words of Father Matthew Lamb,
Professor of Theology at Ave Maria University,
this is the message of Christmas.
Chanukah follows the lunar calendar which has 354 days.
Christmas follows the Gregorian calendar which has 365 days.
Only four other times in the last 100 years
has the first night of Chanukah fallen on Christmas Eve
(1918, 1921, 1959, and 2005).
This year they are aligned.
This year, Chanukah and Christmas start at the same time.
Both holidays emerged during different centuries
and out of different historical circumstances.
Yet both teach that during the darkest of days of the year
hope can be born and light can be rekindled.
And we have a role in bringing that about.