June 29, 2019
Clergy, Moral Courage, and Reproductive Rights
Being clergy calls for moral courage and being a voice for those who are voiceless. Women facing one of the most painful life decisions of choosing to terminate a pregnancy need religious leaders who support a woman's right to choose to be a voice for them. Last week, I was honored to speak on a panel with amazing clergy colleagues who spoke with compassion, passion, vision, wisdom and eloquence. They called for justice and for those who support the right to life to create policies that support the lives of children who are already born – immigrant children at the borders, the millions of children in our country living in hunger and in deep poverty — to live in health and safety and with opportunities to have a successful future.  Here are my closing words:
We are speaking for women who are victims of rape. We are speaking for women for whom pregnancy will devastate their lives.  We are speaking for women whose pregnancies are creating serious health implications for themselves or who are facing a profoundly debilitating or terminal health outcome for their child to be born.  We are speaking for women who have the right to make their own choices for their bodies and futures.
The issue of reproductive rights is an issue of life and death. The mental and physical health of women of every age and stage is a religious issue. Rendering abortion illegal would not stop those who decide to terminate pregnancies it would simply lead to unsafe abortions causing illness, death, and harm to innumerable women. It will be going back to darker ages.
Women of every faith make the choice to have abortions.
According to Auburn Seminary, it is estimated that "1 in 3 women in America will have an abortion in her lifetime. These numbers cut across race, class, marital status, and yes, religion. According to the Guttmacher Institute 17 percent of abortion patients in 2014 identified as mainline Protestant, 13 percent as evangelical Protestant and 24 percent as Catholic. This means that in our congregations (conservative and progressive) chances are good that you will have passed the peace, served on a committee, or greeted at social hour a woman who had an abortion." (https://auburnseminary.org/voices/breaking-silence-on-abortion-and-faith/)
As women and men of faith, we need to have moral courage to tell our stories and to stand with each other and for each other – for our wives, for our sisters, for our daughters, for our granddaughters, for our future.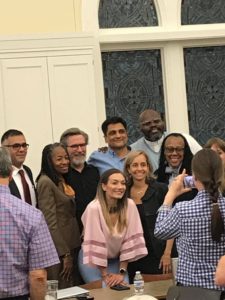 Beyond grateful for these Charlotte clergy colleagues who shared the vision for reproductive rights with passion and eloquence.