February 17, 2016
Justice, Justice You Shall Pursue – Lessons to Be Learned From Justice Scalia by Rabbi Judith Schindler
Justice Antonin Scalia died suddenly on Saturday night. Within moments, a political debate began to rage around filling that most important vacancy and in whose Presidential hands the responsibility and privilege of a nomination lies. As negative political discourse currently disturbs our every day, we can learn some value lessons from the legacy Justice Scalia left.
First, Justice Scalia loved the law. As Jews we love law – learning law, arguing over law, embracing the evolution of law while always searching to understand its original context and intent. Ruth Bader Ginsburg, who is one of the three Jewish United States Supreme Court Justices, has a framed Hebrew text from Torah hanging on three of the four walls of her chambers. It reads: "Tzedek, tzedek tirdof – justice, justice you shall pursue." As she engages in her most sacred work of ensuring that justice prevails in our country, no matter where she sits in her office she looks up and sees that text from Deuteronomy. "The demand for justice," she explains, "runs through the entirety of Jewish history and Jewish tradition."
Second, Justice Scalia could love even those with whom he passionately disagreed. Justice Scalia was the leading conservative on the high court and Justice Ginsburg Scalia and Ginsburghas been described as "ultra" liberal. Justice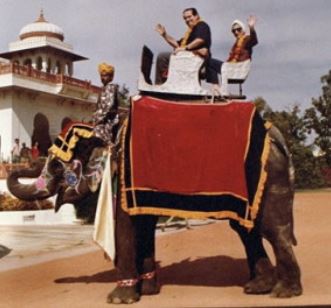 Scalia and Justice Ginsburg had opposing opinions on many of the same issues that divide our country including abortion, affirmative action, campaign funding, the death penalty, the environment, gay rights and gun rights. Yet still, Justice Scalia forged the closest of friendships with Justice Ginsberg across a vast ideological divide. They and their families vacationed together, dined together and even celebrated New Year's Eve together. In a 1996 case, Justice Scalia showed Justice Ginsberg his minority opinion so she could strengthen her majority argument.
Perhaps the repetition of the word justice in Deuteronomy instructs us to understand justice from more than one person and more than one voice. These two Justices' unlikely friendship teaches about the importance of seeing the world's issues and reflecting on ideal solutions through different eyes. We can learn from Justice Scalia and Justice Ginsburg that all our cases and our country will be stronger when we make the effort to see, hear and respond to each other's arguments.
At this time in American history, we can hear the double use of the word "justice" in Deuteronomy calling us to heed a lesson from Justice Scalia׳s and Justice Ginsburg's playbook as we relate and debate with those with whom we stand across a political divide. It teaches us also to hold ourselves and our politicians accountable for working toward that same level of respectful discourse.