March 25, 2020
Sacrifices Large and Small – Day 12
Sacrifices stand at the center.
Sacrifices are at the center of the Five Books of Moses. This week, the Jewish world opens Leviticus, the middle book of the Torah, and reads of the sacrifices that Moses called the Israelites to offer as they stood at Mt. Sinai.
Sacrifices are at the center of this fight against Corona. They range from large to small.
There are the monumental sacrifices being made by our healthcare workers globally: doctors, nurses, ambulance drivers, maintenance workers, and all supporters of our healthcare system. Many of them are separating from their families for an unspecified period of time in order to serve others. They are risking their lives to save those they do not know.
Next are the global workers who are providing "essential services" — at supermarkets, at pharmacies, volunteers delivering food, and beyond. They are leaving the secure shelters of their homes to ensure others have the necessities they need.
There are the sacrifices being made by global businesses who have closed to protect their employees. Some are risking economic survival. Others are being called to change their course and see what resources they have that can be shared to support our collective and global battle. Textile mills are making masks and schools are using 3D printers to make face shields. Automakers will potentially be making ventilators.
Then there are the smaller sacrifices – going to the gym, hair appointments, house cleaners. All need to be cancelled. Those who are blessed to have a continued salary are sending payments for unused gym memberships and unused services from lawn care to manicurists. People are sending tips to former restaurant servers and hourly workers to pay for labor these employees would have done but cannot do.   
There are the social sacrifices of hugs and physical presence – with our friends, neighbors, congregations, and with all.
Sacrifice entails giving up something of value for a greater good. In the Torah, the sacrifices to God were meant to serve as atonement for mistakes and wrongdoing; as thanksgiving for our harvest and health; as prayer, for healing and for redemption.
The book of Leviticus opens with the Hebrew word Vayikra – which means "and God called."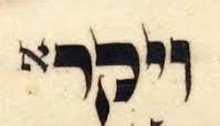 One letter of the word, the letter "alef" is smaller than the rest. The alef is also the same letter that starts the word ani or anochi which means "I." Today we need to make ourselves smaller in order to serve.
Today, prayer replaces the ancient system of sacrifice. The Levites approached the Temple with song. Each sacrifice we make can be viewed as a sacred act and prayer. As the Levites once did, may we offer our sacrifices with open hearts, with generosity, with ascending spirits, and with song.
Photo by Visuals on unsplash.com. Day 12 of social distancing.